2019-2020 Season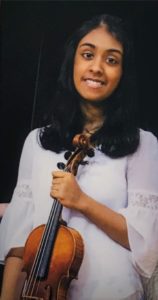 Vibha Janakiraman, age 13, started studying violin at age 6 with Jessica Hoffman at The Music School of Delaware. Since the summer of 2016, she has been studying with Lee Snyder at Settlement Music School, and will study with Catherine Cho at the Pre-college division of the Juilliard School starting Fall 2019. An 8th grader at the PA Leadership Charter School (PALCS) University Scholars Program, Vibha was the concertmaster of the Philadelphia Young Artists Orchestra (PYAO), and performed as a soloist with the orchestra in May as the winner of the 2019 PYAO Concerto Competition. Vibha made her orchestral debut  with the Wilmington Community Orchestra as a winner of the 2017 Delaware Concerto Competition for Young Musicians, and was the winner of the 2018 Tri-county youth competition's junior strings division. She was a recipient of the 2018 Estella Hillersohn Frankel Scholarship awarded by the Music School of Delaware, and was the second place winner at the 2019 Bucks County Symphony Orchestra competition. She was also the winner of the Main Line Symphony Orchestra competition will perform with the MLSO in their 2019-20 season.
Vibha is the violinist of the Gray Charitable Trust Advanced Study Piano Trio coached by Sandra Carlock at Settlement Music School. She has also been a member of the PMAY Arts Initiative since 2017, and will be attending the 2019 Young Artist Summer Program at the Curtis Institute of Music. She has played in master classes taught by many distinguished violinists, including Elmar Oliveira and Hilary Hahn.
Sarah Park is currently 15 years old, and will be entering 10th grade at Liberty High School. She
studies with Jeffrey Khaner (Curtis Institute and Juilliard School), and has played the flute for
over 8 years now. She has won various competitions, including the Flute Society of Greater
Philadelphia Young Artists Competition, Ambler Symphony Elmer and Louise Menges
Scholarship, Bucks County Symphony Youth Concerto Competition, Crescendo International
Youth Competition, KRB New York International Competition, Nelly Berman Classical Virtuosos
Competition, Asian American Music Society International Competition, and the Pocono Flute
Festival Competition. Sarah was also selected as a finalist at the Philadelphia Orchestra Albert
M. Greenfield Competition. In addition, Sarah has also performed at Weill Recital Hall in
Carnegie Hall, Lincoln Center Bruno Walter Auditorium, the Kimmel Center, and the Kennedy
Center for winner's concerts. She has won the Michael Kurta Outstanding Musicianship Award
for her school band. She was apart of the Philadelphia Young Artists Orchestra for 3 years, and
is currently playing in the Philadelphia Youth Orchestra. In addition to music, Sarah is also a part
of the swim team and loves to spend time with her friends.
Bethany Bobbs is a scholarship student in the Juilliard School Pre College, a training center for advance pre-college musicians, and the Perlman Music Program.  Bethany studies cello with Sieun Lin and Astrid Schween, and piano with her mother, Catherine Bobbs. 
Bethany made her piano solo orchestral debut at the age of 8, performing  with the Cleveland Institute of Music Chamber Orchestra. She made her cello solo orchestra debut at the age of 9, also performing with the Cleveland Institute Chamber Orchestra.  As the winner of concerto competitions, Bethany has had the opportunity to solo with the Yonkers Symphony, Delaware Symphony, New Jersey Intergenerational Symphony, Old York Road Symphony, Nova Sinfonietta, Summit Symphony, Georgia Philharmonic Symphony, The Fort Bend Symphony, Brazosport Symphony, The Houston Symphony of the North, The Houston Youth Symphony, and The Sewanee Music Festival Orchestra twice as their concerto winner for two years in a row.  In 2014, Bethany won 3rd place in the prestigious Houston Symphony League Concerto Competition as the youngest competitor. In 2016, Bethany won 3rd place in the National Federation of Music Teachers Association Stillman Kelly Award, a national piano and instrumental competition, as well as the Mary Alice Cox Cello Award, their youngest winner on record. This year, Bethany won the merit award with the prestigious YoungArts program and attended their New York regional program.
Bethany, at 7, was the youngest winner of the Cleveland Cello Society Scholarship competition.  In 2011, she received the Ohio's prestigious Elementary Buckeye String Award and performed for their Music Teachers State Convention.  In 2014, Bethany received 1st place in the TMTA junior strings all-star competition. Besides performing, Bethany enjoys helping others.  Recently, Bethany won the Doing Good Music Scholarship for her charitable concerts which include performing for cancer clinics, preschools, and retirement homes.  Bethany has taught young pianists as well as tutoring young orchestral players.  
Bethany has enjoyed summer study in such prestigious music festivals as Aspen Music Festival, Colorado, Sewanee Music Festival, Tennessee, Conservatory Music in the Mountains, Colorado,  Kinhaven Chamber Junior Program, Vermont, Indiana String Academy, Indiana, Cleveland Institute of Music Summer Sonata Festival, Ohio, and the Interlochen Arts Academy, Advanced Junior String Program in Michigan on merit scholarship.  Bethany won the opportunity to perform on the Next Generation subscription series at the Conservatory Music in the Mountains in 2013, and on the Spotlight Recital Series at Aspen Music Festival in 2016. These last three summers and in their winter residency program, Bethany attended the Perlman Music Program(PMP) where she studied with Astrid Schweed, Clara Kim, Paul Katz and Ronald Leonard. She also had the wonderful opportunity to travel to Israel with PMP and perform with other talented youth from around the world.
In addition to performing solo, Bethany enjoys playing chamber and orchestra music.  Her Houston chamber group was selected to be a part of the elite Houston Young Artist Program and performed for my charitable and community concerts. Her chamber group at the Aspen Music Festival, through audition, was chosen to perform in their Spotlight Recital. Bethany has performed in masterclasses with Joshua Roman, Richard Aaron, Richard Weiss, Desmond Hoebig, Stephen Balderson, and Brinton Smith.  Bethany is the 7th of 8 children, and is home schooled.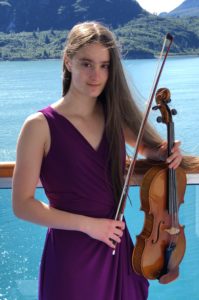 A junior in high school, Zoe Yost has played viola for almost nine of her sixteen years.  She currently studies with Kerri Ryan of the Philadelphia Orchestra, her past teachers being Sheila Browne, Esme Allen-Creighton, and Kathleen Hastings, and is principal violist in Temple Music Prep's Youth Chamber Orchestra.  She has studied chamber music there with the Jasper Quartet, Sidney Curtiss, and Charles Parker.
She has studied with Carol Rodland two summers in a row, at Bowdoin International Music Festival in 2018 and Valdres Sommersymfoni, an orchestral intensive in Norway, on full scholarship in 2019.  She also studied with Kirsten Docter at Bowdoin in 2019.  She has performed as a soloist in masterclasses for Kim Kashkashian, Karen Ritscher, Kristina Fialová, and Laura Manko Sahin, and as a quartet violist for the Takács, Verona, and Johannes Quartets.  For the 2017-2018 academic year she held a scholarship position in Settlement Music School's Trowbridge Advanced Study String Quartet, coached by Thomas Kraines of the Daedalus Quartet, and played in Philadelphia Youth Orchestra 2017-2019.
In addition to her performance with the Ambler Symphony, she will solo this spring with the Old York Road Symphony as a winner of their concerto competition.  When she isn't playing viola, Zoe enjoys playing piano, composing music, painting, writing, fondling her fluffy feline, and reflecting on life and philosophy.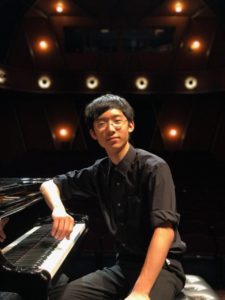 Chris Jung, age 17, is a 11th grade student at Conestoga High School. He began playing piano at the age of 5, and currently studies with Dr. Igor Resnianski at the Nelly Berman School of Music. He has won awards at the West Chester University Piano Competition, Pennsylvania's Music Teachers National Association (MTNA) Competition, the New Orleans Piano Institute Solo and Concerto Competitions, Steinway Junior Piano Competition, Rotary Club of Pottstown Performing Arts Scholarship Competition, and 1st place at the Junior Piano Division of Tri-County's 2014 Youth Festival. In 2018, Chris was selected to participate at the Piano Texas International Academy PrepFest. He was also a selected performer for the 2018 one year anniversary of the Kids on Keys music awards show on WWFM, he also performed live at the WRTI studio twice as a winner of the Steinway Piano Competition. Most recently, he has won 1st prize at the Global Music Partnership International Competition and a special award/scholarship to perform as soloist at the "Musica in Laguna" International Festival in Italy where he also won 3rd prize at it's International Solo Competition. Other awards include 1st prize at the 2019 West Chester University Piano Competition,1st prize  at the Senior Piano Division of Tri-County's 2019 Youth Festival and 3rd prize at the Steinway Junior Piano Competition. He won the New Orleans Piano Institute Concerto Competition this July and will perform this October with New Orleans Civic Symphony.